Marketing strategies in a young, growing market with high potential. The definition of a marketing strategy is mandatory for all companies. This will enable the competitive performance objective to be defined over a defined period of time, depending on the means and resources, the constraints and the weaknesses, both internal (company) and external (market). The goal is to achieve this goal in order to meet a customer need and therefore satisfy them to better retain them. The advantage of establishing a strategy is to enable you to establish a concrete action plan that you can measure success according to specific indicators.
How to define your marketing strategy?
Upstream, all the work lies in market research and analysis of your strengths and weaknesses. This research will allow you to establish a diagram summarizing the situation of your company in the target market, this is called S.W.O.T. or the French equivalent the FFOM (Forces, Weaknesses, Opportunities, Threats).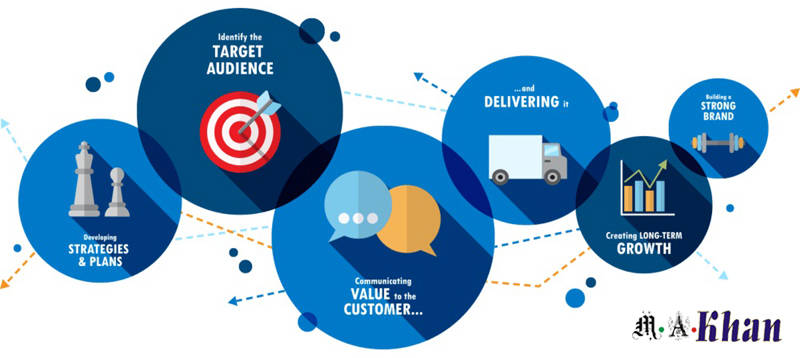 From these elements, you can decide to establish your marketing strategy based on the following elements:
The segmentation of the market is the division of all consumers into distinct groups based on age, geographical location, CSP, consumption habits…
The targeting of product-market pairs, which is based on 5 market hedging strategies which are concentration on a product/market pair, product specialization, specialization by market, selective specialization or overall market coverage.
Positioning, i.e. the perception that your company wants to send to consumers to differentiate themselves from their competitors.
Once you have defined which market or segment configuration your company is located, different marketing strategies are possible depending on the market trend.
Marketing strategies in a young, growing market with high potential
The strategies of extensive development of the activity or strategies of the movement called "pull" regroups the actions aiming at bringing the consumers towards the products, to "pull" them. It is a question of creating a need that will make them buy the product of their own free will.
The marketing pull is mainly reflected in mass media advertising and promotional campaigns. It is a question of attracting the eye of the consumer by owning, for example, a site showcase with the clean design but rich in information, being present on a blog and on social networks.
In most cases, these strategies are reserved for large groups or at least companies that already have a certain reputation.
Marketing strategies in an emerging and new market
On the other hand, push strategies are "pushing" the product to the consumer. The actions implemented can be directly aimed at consumers or through distributors with, for example, participation in the fair and trade show, sample distribution, promotional campaigns in distribution with product highlighting, deployment of forces field sales, etc.
Brands using this process often have no or little budget for communication and rely mainly on their sales force by getting closer to their target.
To be effective, this strategy requires upstream particularly intensive segmentation to offer an offer adapted to the targeted target.
Marketing strategies in a mature or stagnant and saturated market
These strategies are based on the fact that the company can only defeat its competitors by increasing its market share. For this, several possible competitive strategies:
Increasing primary demand: The Company is looking for new users, new ways of using a product, or trying to increase sales volumes.
Specialization: the company focuses on a narrow and highly specialized market, known as the niche market.
Differentiation: from above, the company offers products and services of better quality than the competition or conversely, from below, the company offers a product or service that is cheaper than that of the competition.
Diversification: the company offers new products or services more or less close to the initial products by capitalizing on a brand image and a strong reputation.
Innovation: the company anticipates new needs and becomes a leader in the market.
Marketing strategies in a mature or stagnant but unsaturated market
In this case, we speak of a penetration strategy. This strategy can be used by a company to establish itself in a market by practicing a pricing policy with low prices to gain market share to its competitors. Several objectives to this:
Quickly enter a market by selling large quantities and thus setting a standard
A reduction in unit costs thanks to mass production and economies of scale
The discouragement of competition, especially from private labels
However, this strategy requires substantial production resources and a large-scale distribution network.
Once your strategy has been defined, it is now time to define relevant and inherent objectives of this strategy. And then, to answer it, you will have to draw up a plan of action, called a marketing plan which will help you to formalize your project in the field.
Types of Marketing Strategies
Do you want to develop your business? By personal ambition, because an opportunity arises or simply to increase your turnover? Whatever your motivation, there are different ways to change a business.
These are clearly presented in the Ansoff model, a strategic tool used in setting up a growth strategy. It is a good basis for thinking about the strategic development of your company.
Ansoff's growth matrix has two axes:
Products :
What products are you supplying right now and what new products do you want to offer in the future?
The market :
What markets are you serving at the moment and what markets do you want to serve in the future?
On this basis, four types of growth strategy are proposed. The four major growth strategies are:
Market Penetration
The objective of this strategy is to increase the commercialization of existing products or services in existing markets and to increase your market share. To do this, you can attract the customers of your competitors and/or ensure that your own customers buy your existing products or services more often.
Market extension
In this case, you will increase the commercialization of existing products or services in still unexplored markets. Market extension involves an analysis of how an existing supply of a business can be sold in new markets or how to expand the existing market.
Product development
The goal is to launch new products or services in existing markets. Product development can be considered to expand the offering offered to existing customers in order to increase their business volume.
Diversification
In this case, you are launching new products or services in still unexplored markets.
Diversification is the riskiest strategy. It involves the company's commercialization of completely new products and services in a totally unknown market.
Diversification can be further subdivided into different categories:
Horizontal diversification
It involves the purchase or development of new products by the company in order to sell them to its existing customer groups, although these new products do not present a priori any technological link with the existing product lines.
Vertical diversification
The company enters the sector of its suppliers or its customers.
Concentric diversification
Concentric diversification involves the development of a new line of products or services with technological and/or commercial synergies with a range of existing products, although these products are intended for new customer groups.
Conglomerate diversification
This diversification does not imply a technological synergy, nor a commercial synergy, but requires the attraction of new groups of customers. It is sometimes used by large companies seeking ways to balance their cyclical and non-cyclical portfolios.
Depending on the strategies put in place and its ambitions, a company will choose one of these four strategies. This choice depends in particular on the orientation of the product/market of a company and the taste of the risk of the latter.