Content:
What is Affiliate Marketing?
In its simplest form, affiliate marketing is selling the products of others. As a marketer, you can join an affiliate program and promote products (physical or electronic) or services through your website.
Affiliate marketing is an effective and productive marketing technique. It is a cooperative effort (business partnership) between a merchant and one or more affiliates. The merchant rewards the affiliate when the latter brings a visitor to his website or when he sells the merchant's product or service.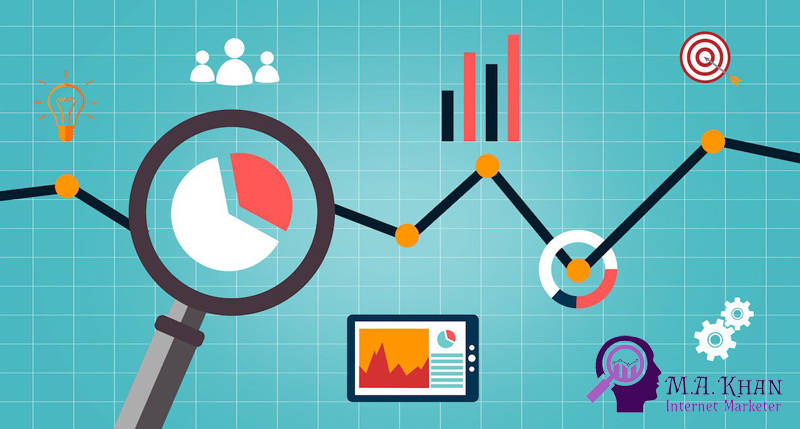 Affiliate marketing is a system that usually consists of four distinct elements: the publisher (affiliate), the advertiser (merchant), the consumer and the network.
The advertiser, also known as a merchant or retailer, is an individual or business that sells a product or service. The advertiser partners with the publisher (s) to promote the advertiser's products and services.
The publisher, also known as a marketer or affiliate, is an individual who promotes products and services. Affiliates are partners with the advertiser to promote the products and services of the advertiser. Thy uses ads, links, and creates marketing campaigns to find buyers for the advertiser's products and services. For each product sold, the advertiser gives a commission to the publisher.
The consumer, you all know him. It's you and me. Antidote (affiliate link) defines the word consumer as follows: A person who uses goods or services to satisfy his needs.
The network, also known as a program or platform, acts as an intermediary between the advertiser and the publisher. It makes it easier for the publisher to find and participate in an affiliate marketing program. Affiliate network also makes it possible to reach a larger number of advertisers and publishers. Some networks have membership fees while others take a share of the advertiser's profits when a sale is made.
How Affiliate Marketing Websites Works?
Amazon Associates is one of the most used affiliate marketing websites on the internet. Amazon has thousands of publishers (Amazon names them partners) who promote the products found on all Amazon Inc.'s websites. In fact, it is said that much of Amazon's success is due to its excellent program Affiliate. Why is Amazon's program so popular? Because it is very accessible and easy to use.
To help you understand how affiliate marketing works, I suggest the following example:
Currently, I am a publisher (affiliate) of the advertiser (merchant) Amazon.com. When I want to promote an Amazon.com product on my blog, I simply log on to Amazon.com and search for the product I want to promote. When I found the product, Amazon generates a unique link that I use on my blog. For example, in this post, I mention the Antidote software. If you hover over the link with your mouse cursor, you will see the unique link. When you click on the link, you will be transported to the Amazon website on the product page. At this stage either you decide to buy the book or not, if you buy Amazon will reward me by giving me a commission (around 4-5% of the selling price of the good).
In this example, the advertiser is Amazon, but Amazon is also the owner of the network which simplifies the system.
Note that there are hundreds of different networks and affiliate marketing websites. I'll show you some of them here in this post.
Is the publisher always rewarded on the commission when selling a product? Everything depends on the network. Some affiliate programs pay the publisher for a certain number of advertisements, others pay when the consumer clicks an ad and others pay for the sale (fixed commission or percentage).
When you have a product to sell, you become the advertiser (merchant) and by subscribing your product to an affiliate network, you reward marketers when they succeed in selling your product.
Is Affiliate Marketing on the Internet only?
Affiliate marketing is a jargon on the internet. Affiliate marketing started in the 90s. One of the pioneers of internet affiliate marketing was Amazon.com Inc. which started its affiliate network in 1996. It is said that Amazon.com was not the first to create this type of network on the internet, but he built the network that spread the fastest by its simplicity and its solid structure. Subsequently, several companies followed the Amazon model to create their own affiliate marketing network.
Today, wherever you go on the internet, everyone seems to want their share of the affiliate marketing market. Several bloggers marketers will explain that if you get their ebook now, it will be possible for you to get rich quickly. There is certainly money to be made on the internet as a marketer, but as in all areas, you will have to work.
Where does this Idea of Affiliate Marketing come from?
Even before the Internet was accessible to the general public, who were the affiliate marketers? Did they exist? Before the advent of the Web, affiliate marketers were called vendors and they were members of the Multi-Level Marketing (MLM) networks. At a time when everyone was interested in the idea of a vacuum cleaner and revolutionary cleaning products in their homes, the marketing networks were very active. These networks consisted of vendors who were paid commission for the products they sold. A salesman could also be rewarded when he recruited new salespeople and they established sales of the product or service in question. Generally, it was the company that produced the good or service that employed the sellers.
Affiliate marketing websites are mainly the same thing. The publisher (seller) receives a commission when he makes a sale. In an affiliate program, the publisher (the marketer) is the seller and the advertiser is the company that produces the good.
At the time, the salespeople were the people who went to knock on your grandmother's house to sell plastics. Today, these marketers are those who invite their friends to presentations of beauty products, decorating accessories and Tupperware dishes. Same principle, different era.
Today, the techniques to successfully sell a product online are different.
Internet marketers are usually members of online business affiliate programs. Some of these marketers are bloggers, designers, copywriters or simple marketing affiliates.
The subject of affiliate marketing has been a hot topic on the internet for a few years now. Do a little research and you will find hundreds of eBooks that promise to earn thousands of dollars, in a few weeks, with the right techniques. Personally, I believe that affiliate marketing is much more difficult and time-consuming than we think. To sell products online, it's not just about interrupting people and asking them to buy. It is necessary to establish a good strategy and answer them: Who? What? Or? How? Before you start.
Do you think you can sell a product you do not know to people you do not know? It's possible, but to have been there, believe me, it's difficult.
Do you Love what you do
Phil Town explains in his book Rule Number One, that the strategies for becoming an excellent investor. From the strategies he proposes to us, I think the most important is:
Find a wonderful business that you love.
Why is it important to invest your money in a company you love? Because a company you love is a company you know and understand. And if you know the company, chances are you're aware of the industry and have a good idea of the strengths of the company's competitors.
Anyway, why would you want to invest in a company you do not know? Because we talk about it well in the newspaper and on the internet? A little serious! Journalists, like you, have their own opinion. An opinion is an opinion.
Everyone speaks for his parish. If you saw what marketing journalists say about Apple when Research in Motion (RIM) hangs out? Apple Wall Street journalists, who are also investors, are trying to influence the votes.
Why compare affiliate marketing and investing?
Affiliate marketing and stock market investing work the same way.
As an investor in the stock market, you must: find a company you like, and buy stocks.
As an affiliate marketer, you must: find a product you like, and sell it.
For affiliate marketing, it's easier and better to promote a product or service you know and love. I'm not saying it's impossible to make money promoting products you've never tried, but let's say it's not easy.
The Benefits of Affiliate Marketing Programs
Easy management. When a system is automated (example: an affiliation network), the cost of labor is greatly reduced. At the time, traditional businesses had to hire and manage employees (vendors) which required a lot of resources: time and money.
No financial risk. What's interesting for the advertiser and the publisher is that affiliate marketing has almost no financial risk, unlike an advertising campaign that can cost up to a few million dollars for big business.
Multiple sources of income. The possibility of additional income for a user who has little computer knowledge. If you have some free time, you could advertise products and services online and increase your income by receiving a commission for your sales.
Today, you could have 50 marketers working for you to sell your new eBook, even when your business has only one employee: you. Several major affiliate networks are already established on the internet and you could subscribe now.
Economic solution. Registering your product in an affiliate program is a very economical solution to help you advertise and sell your product. If you have an attractive product, marketers will work for you.
The Future of Affiliate Marketing Business
Personally, I think the idea of an affiliate program is great. There is an affiliate program for almost any product or service that can be sold on the market.
Today, the best-selling assets using affiliate platforms are electronic products (software, eBooks, etc.) and books, but I believe that in the future we will see more and more advertising for physical products (example: a bike, a computer, tools, etc.). I would even say that readers of a blog on running would have an advantage to being exposed to ads of shoes and sportswear, rather than an eBook ad: "How to make money on the internet".
I predict that platforms will become much more portable and a programmer will simply be able to plug the affiliate plug-in to his own website to launch his personal marketing system.
Imagine a totally portable system that you could link to your unique and handcrafted jewelry website. Once an affiliate marketer has found a buyer for your handmade jewelry, the system would record the transaction, pay the marketer via PayPal, pay for it yourself, and send you an email to let you know and at the address of the buyer. No more need to pay for an affiliate platform service.
Affiliate Marketing Websites Directory
Affiliate Platforms Affiliation is a very effective solution for monetizing a site, and this directory that you are currently viewing is itself monetized via affiliations.
Affiliation, what is it? Affiliation is advertising, but unlike traditional advertising agencies that pay only by clicking or displaying banners, affiliate platforms mainly offer compensation for registration (Lead) or sale (CPA). This means that to earn money (commissions) through membership you have to recruit new members or new clients for other websites.
This pay system is very effective if you know how to do it, especially since traditional ad blockers are enjoying increasing success with users. An affiliate link placed correctly in a blog post, for example, can bring money for weeks, months, even years.
To optimize affiliate revenue, you must place affiliate links in a consistent manner with the reader. The most effective is to use Content Marketing, which means placing affiliate links in textual, video or audio content. In many cases, one can also use the social networks and newsletters on its website to increase revenues.
On this page are listed some of the best affiliate marketing websites, these sites will allow you to find many potential advertisers to make money with your site.
The Best Affiliate Marketing Websites to Grow Revenue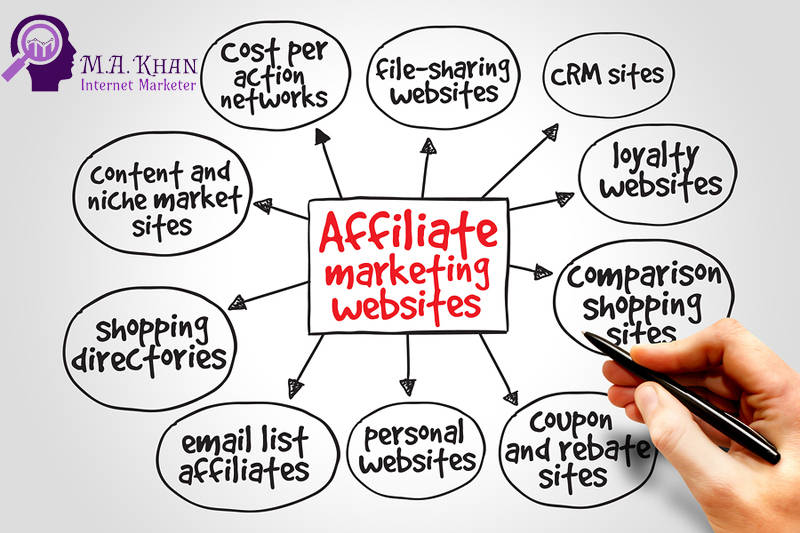 Here is the list of the best affiliate marketing websites … or at least a few only because there are so many.
TradeTracker
TradeTracker is a general-purpose affiliate platform that offers on average more than 250 campaigns of all kinds. The themes in which TradeTracker offers the greatest number of campaigns are the theme "Travel & Holidays", "Fashion & Jewelry" and "Home & Garden". The payment threshold is 25 Euros.
Daisycon
Daisycon is an affiliate platform that offers dozens of campaigns; the payment threshold is from 25 Euros. This affiliate platform offers all sorts of campaigns, but there is a certain specialization in campaigns for market research sites (paid surveys) or other sites that can earn/save money.
Influence4Brands
Influence4Brands can monetize a blog or its presence on social networks by relaying paid advertising campaigns to the sale, click, registration … With Influence4Brands you can monetize a blog, a Facebook page, a Twitter account, an Instagram account or a YouTube channel.
Effiliation
Effiliation is the generalist and very popular affiliate platform that currently offers more than 265 different campaigns. The payment threshold is 75 Euros minimum.
Cre'Online Affiliation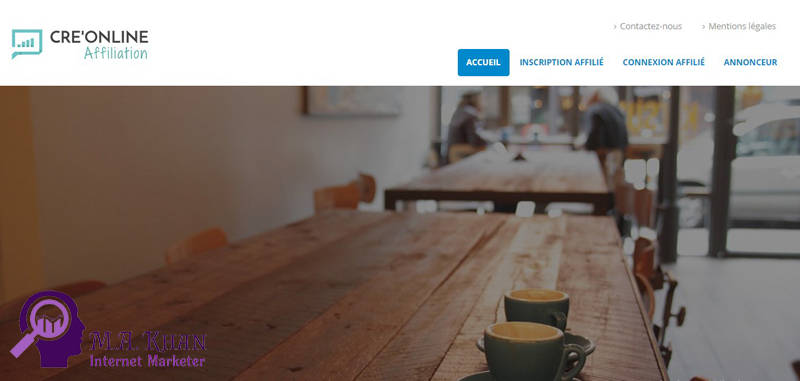 Cre'Online Affiliation is an affiliate platform specializing in campaigns for paid online survey sites and product testing.
Mediaffiliation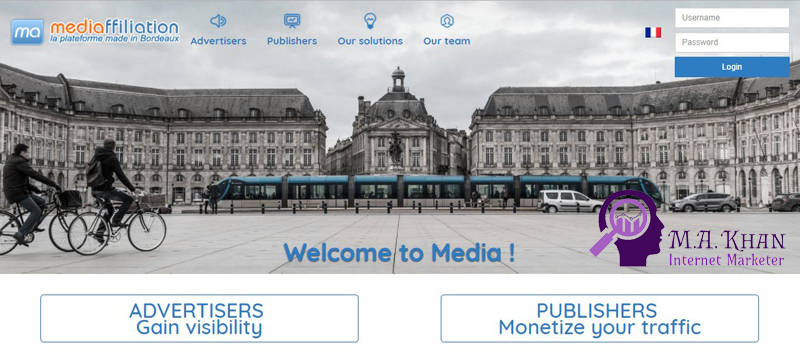 Mediaffiliation is a general-interest affiliate platform that offers dozens of campaigns of all kinds, however, we can notice that most of the available campaigns involve online contests or gaming sites to win gifts or money. The payment threshold is 25 Euros by check, PayPal, Bank transfer or Skrill.
Sponsor Boost
SponsorBoost is a general-purpose affiliate platform that offers hundreds of different campaigns. The payment threshold is 30 Euros only.
Health Trader
Health Trader is an affiliate platform in the pharma niche It pays very large commissions: from 13 to 40% on the products sold: The partner sites offer slimming themes, food supplement, beauty care, full of natural products and others less as a supplement for bodybuilding or other … There is really enough to make good pay in themes that have a lot of success on the internet. The niche of food supplements and beauty is one of the most lucrative niches.
Tradedoubler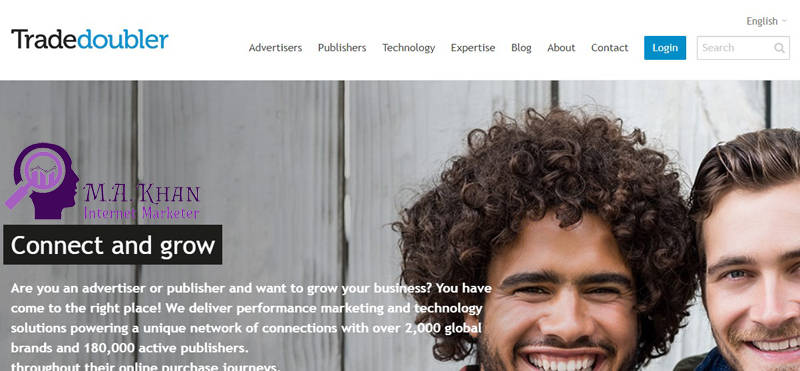 Tradedoubler is a general-interest affiliate platform that offers many campaigns (more than 200 on average). It also offers many additional tools to make money easier with your site. The payment threshold is 50 Euros by bank transfer.
1TPE
1TPE is an affiliate platform dedicated to digital products, mainly eBooks and video training with commissions of up to 70%. This platform offers a sponsorship program that pays 1 Euros for each product sold by a godchild, the threshold of payment is from 30 Euros. If you have an info product for sale (eBook, video training, etc …) you can offer it to affiliates of this platform by offering them a commission, which may allow you to achieve many additional sales.
Gambling Affiliation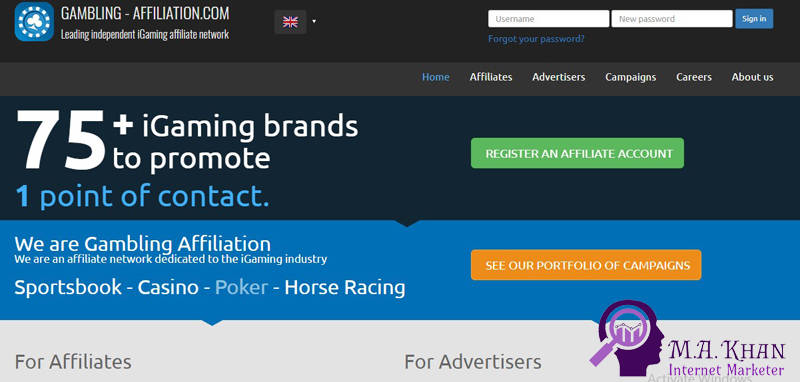 Gambling Affiliation is an affiliate platform dedicated to gambling on the internet such as Turf sites, sports betting, online poker, binary options, etc. The payment threshold is 100 Euros.
Afflight
Afflight is an affiliate platform that offers mainly campaigns for contests whose remuneration is generally between 20 and 70 cents perform. The payment of the winnings can be done from 25 € by PayPal, Payza, check or bank transfer. Afflight regularly offers contests to reward the best affiliates with a variety of gifts.
Com & Click
Com & Click is a general-interest affiliate platform that offers around 100+ campaigns all the time. A good part of the available campaigns offers a "Mailing" format to promote them in the newsletters. The payment threshold is 20 Euros.
Net Affiliation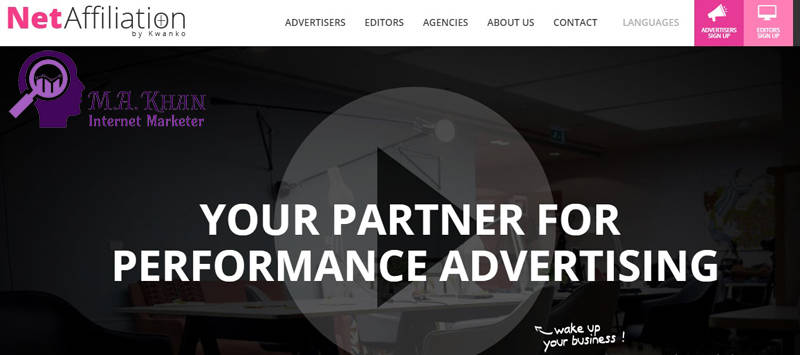 Net affiliation is a general affiliate platform that offers more than 450 campaigns. The payment threshold is 50 Euros.
Affilinet
Affilinet is a general-purpose affiliate platform that offers more than 250 campaigns on average. The payment of the gains is done automatically when one reaches the threshold of 100 Euros.
ClickBank
ClickBank is an affiliate platform dedicated to digital info products (eBooks, video training, audio books, etc …). If you are a product creator, you can offer it on ClickBank to increase your sales in exchange for a commission that you will have to pay to affiliates. If you are an affiliate you can earn commissions (up to 75%) on hundreds of products by selling them via email, via social networks or via your website/blog.
Pubdirecte
Pubdirecte is an advertising agency that offers campaigns mainly to CPC and CPL. This site offers about thirty campaigns and most advertisers are streaming and download sites. The payment threshold is 20 Euros.
32 Tips to Win Money with Affiliation!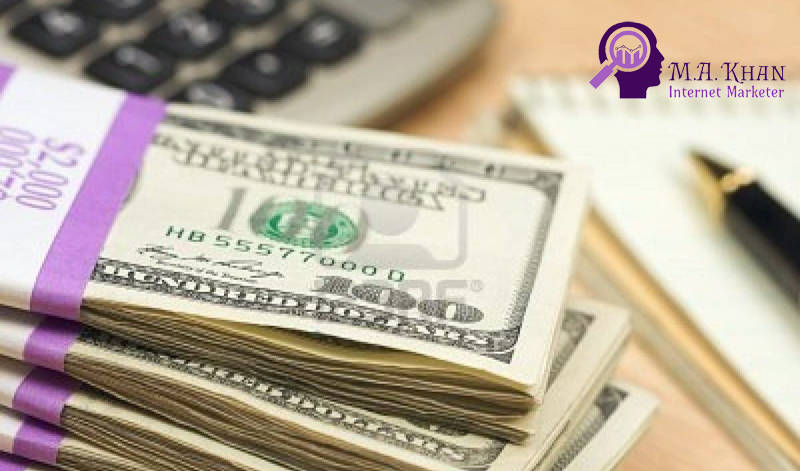 The 5 steps to embark on the affiliation
1) The concept of affiliation
Affiliation is a very advantageous concept for the seller as well as for his affiliates. It allows the seller to leave the work of the promotion to affiliates (or to benefit from their strength to help and have more impact).
Affiliates will be able to promote quality products without having to go through their creation. They will be able to focus on the marketing of the chosen product.
2) How to deal with the affiliation as a seller
If you are the creator of a product and want to have the help of an army of affiliates ready to take care of the promotion, you will have to start by thinking like an affiliate.
There are two main criteria to meet with affiliates.
– The price: The more expensive it is, the better (be careful not to lose the "customers" anyway!).
The affiliate will seek to promote items that offer a good commission. He will find a product that will make a nice sum for every sale. If you sell an eBook at 15 Euros and you offer 6-7 Euros to the affiliate, there will be little interest. Some CPP followers will think twice about their return on investment.
So try to offer a fairly expensive product. If you are the author of several products, you can make a pack which will be much more attractive to your affiliates. For example, you sell eBooks' for 20 Euros. You can make a pack of 6 eBooks for 90 Euros.
– The commission percentage: The highest possible.
You will compete with competitors who offer 70% of the product price to their affiliates at each sale. The choice will be quick if they have less to win at home…
3) How to Act as an Affiliate
We have seen part of the affiliates' approach to the previous point. It takes a good price to have a good return on investment depending on the type of promotion chosen (for example the CPP).
The percentage of commission continues in this line, if you hit most of the price of a product quite expensive at first, you will have a lot of room to promote it.
You know that in the English-speaking world, some affiliates only focus on products that earn more than $ 100 in commissions per sale?
There are now 3 other very important criteria to take into account to find the right product to promote:
– The sales letter (or argument):
This is really what will decide the outcome of the prospect's visit. Is she professional and she inspires confidence? If you were interested, would you be willing to pay for a site like this?
This is a point to consider because if the site does not inspire confidence, a product, as good as it may be, may not sell well. Always consider that there are 2 types of people who can buy a product:
Internet users, who no longer hesitate to buy any product, they trust and know the different platforms of affiliation, and know that there is little risk to have.
* And there are people who rarely (if ever) order who may also be interested in a digital product for sale, and who will think twice before launching, even if the price passes the bar of 50 Euros. It's up to them to think about choosing a product with a quality sales letter.
– Is the information available easy to find for free?
The second important point to think about. I am thinking for example of cooking recipes. Imagine an eBook containing 100 pizza recipes. Now, look at the number of pizza recipes you can have for free by doing a search on Google for "pizza recipes". It is obvious that you will lose some customers on a product like this.
– The product sells well?
Depending on the case, you will have access to an indicator of the success of a product. On the site http://www.1tpe.com for example, you can see for each product the interest for the affiliates. The higher the number, the more the product is sold. You will quickly be able to see what is selling well in each category.
Be careful though with this figure, interest in the affiliate may mean that an affiliate sells lots of products or that some affiliates sell one or two copies: the product sells, but the impact is different.
4) Where to find products to promote
To promote a product you have 2 possibilities.
– The easiest way is to register on an affiliate platform (eg Affilinet, www.1tpe.com, Effiliation, Netaffiliation, 1st affiliation, Paykoo …) which offers programs for many products.
You will find these products sorted by category, and you can then sort them by price, commission percentage, number of sales or date of addition.
This is the most practical solution for quickly accessing a rich catalog and not having to search for products one by one.
– The second possibility is to look for a given product if the seller offers an affiliate system. You will, therefore, affiliated with this seller directly, without going through an affiliate platform.
You will be able to find a real quality product on which to concentrate your efforts.
5) Now, you have to sell!
As an affiliate, you will play a role of advisor to sell a product by affiliation. The seller will take care of "sell" (shipping, payment …). You, you will simply analyze your product; identify its strengths, its weak points. You will get to know your product as well as the seller (the product will have to be of quality).
– Make a product review: Once you know your product well, you will put all this on paper,
explain your experience, what you like, what you do not like (if you find something missing, a little more than really makes the difference, take note, you'll know why later).
– The use of video can be a good idea to show the product (a chapter of an eBook, the use of the product as real). You are already removing the doubt that you bought the product or not. And believe me; you will be much more credible with a proof like that!
– An irresistible offer! Once your criticism (the most honest possible) made, we go to the second element that will
Literally make all the difference with your competition: the offer!
If I have to buy this product, why would I go to you rather than another affiliate? Do you have something more interesting than another? And if you could make me an irresistible offer if I go through you? I would buy surely in this case.
Imagine, for example, software to manage the time you are promoting. If you had in your possession a little eBook on time management to offer me in addition to this software, it might interest me and tip the balance in your favor compared to other affiliates. (Of course, you must have the rights to the distribution of this eBook)
Writing a simple report of a few pages in pdf can do the trick. Just look for a good offer.
I told you about picking up the defects before. By default, I wanted to talk about "missing things". A step that lacks details, an interesting element that is not explained in a method, etc. You can turn this gap into a bonus for your offer. If you can offer the missing link, people would be more interested in going through you. Always remember the importance of the offer. The worst of the products can be sold if the offer is good…
14 Tips to Make Sales with an Affiliate Marketing Website:
1 – Choose a program related to the needs of its target:
it is obvious, but it is important to remember that you need relevant offers that please your visitors or your mailing list. Also, do not hesitate to do 2 returns on the same mailing list. In fact, usually on a base of 100 during a first shipment, you get 70 to 80% of the amount of the first pass during the second pass … By cons in the third, you will have a lower return rate, and you risk boring your readers and generate unsubscriptions…
2 – Get involved in the purchase:
it is important to write black on white "Buy this product" to push the user to action (a simple link is not enough!). At the same time, it is essential to test the product to learn to sell it and tell WHO this product is for and who it is not addressed … This allows on the one hand to reassure your potential buyers, and On the other hand, do not mislead others (leaving your trust capital intact). In the same vein, indicate what are the limits of the products, to avoid the unhappy ones who will make you a bad publicity…
3 – Vary Affiliate Programs:
Products sold through Affiliate have a relatively short lifespan, so always look for new programs. Similarly, as soon as you have to link to a site, a product or a service systematically, you must have the reflex to check if it does not offer an affiliate system.
4 – Use all the tools to promote your offers:
there is, of course, a classic website (Blog or website plaquette), but it is also possible to use Twitter, social networks (Facebook), Forums … For example in Yahoo Questions / Answers subscribe to questions about your sector and respond by giving a link to your affiliate account. If the campaign is highly rewarding you can even do targeted advertising via Adwords or Facebook (but pay attention to ROI to always make money!).
5 – Get the emails from your visitors:
generate traffic is good, but to succeed in the affiliation must be regularly sent promotions to your visitors … For this, a newsletter, a free eBook … are excellent tools to invite your visitors to leave their addresses (nb: reduce to the minimum the number of fields to fill)! RSS feeds are interesting, but always prefer email, because it's the only way to send messages regularly…
6 – Use all keywords generating traffic on the theme of the affiliation campaign:
you must use all the keywords with heavy traffic on the theme of your affiliation program to attract a maximum of visitors. To do this, simply go to Google Adwords and generate keywords related to the main keyword.
7 – Be transparent about the fact that you make the affiliation on a product:
if you want to increase your conversion rate, specify clearly when you propose a link of information, it will avoid you of the negative remarks of your visitors…
8 – Write texts that will be valid for a long time:
a text to promote a product must be valid for a long time because you will not have the opportunity to modify the texts each time … So avoid mentioning dates or facts too specific. Write texts that will always be true. On the other hand, if the global situation changes (e.g. the crisis), you will have to review your arguments to stick to the news (more messages on the growth of the turnover …).
9 – Always start by offering entry-level products before offering the high-end products of an affiliate program …
If you make sales of the product Low Cost there is still time to offer a complimentary offer.
10 – Open a new browser
when you make a link to the affiliate marketing websites (target = Blank), in order to keep the affiliate on your site and allow him to come back if necessary.
11 – Check your stats against the affiliate's stats, especially the number of links clicked.
You can do this by using URL shorteners. Also, check which program or message generates the most clicks to optimize your site.
12 – Give a professional image of your website:
to inspire confidence and generate sales you must give confidence to buyers. It is therefore essential to healing your layout (not too many Adsense ads …), and a layout adapted to your theme (you can create a site via WordPress, SPIP …). Also, pay close attention to the loading time of your page so you do not lose visitors along the way…
13 – Be effective in your texts:
do not write novels but be short simple and direct. Always highlight the current problems of your customers and the benefits of the product. Remember that in France the VPC grants a right of withdrawal within 7 days (it is, therefore, a purchase "without risk, satisfied or refunded").
And as a last resort:
DO NOT SELL CHARLATAN PRODUCTS, scams, bad quality products … you may bite your fingers for a very, very long time!
18 Tips to Succeed Your Affiliate Program
1 – Explain clearly why your affiliate program is interesting with 4 or 5 major arguments:
the price, the niche, the quality of the product, and the mode of remuneration … Ideally, you must have a brief description, testimonials, statistics (CA made by several affiliates, click rate …).
2 – Be very quick to respond to affiliate requests
your image and the loyalty of your affiliates is at stake! Indeed the good affiliates will always find attractive offers, so do not let them go to the competition simply because you did not respond immediately to their request!
3 – Explain very clearly how to set up your affiliate program:
indeed all webmasters are not pros in computer … So you must do a tutorial step by step on how to copy the links, put them in place …
4 – Provide as much advertising material as possible:
text link, banner, skyscraper, square … you should if possible offer all the advertising formats because the sites all have a slightly different design! Likewise innovate to convince your prospects: offer an eBook extract, a testimonial video, a video demonstration…
5 – Be very transparent about the statistics and the realized turnover …
An inventory of the day-to-day is essential. Indeed an affiliate who sees no sale will very quickly delete your program and move to another more profitable … Also explain clearly what happens in case of cancellation of an order from the prospects (between 2 and 10%)
6 – Relaunch the registrants who have not set up the affiliate program:
it is very common for some people to register but do not set up the program for lack of time … You must either restart them manually or provide an automatic email 3 days after registration to ask them if everything is fine and if they need information (link to the FAQ, a tutorial to set up the program …).
One of the champions managing its affiliate program is Easy Flirt. Indeed once you have registered you will automatically receive a reminder email 1 week later if you have not yet set up a shop with the instructions to do it with a mini-tutorial in pictures. A few days after setting up the shop, you will receive a first email explaining how to promote your affiliation, and two weeks later, further advice on running a mailing list and setting up new systems to attract registrants.
7 – Animate your affiliate network:
usually, an affiliate runs his programs after a few days if he sees no return, or a few weeks if the turnover is generated … So you must treat this turn over by offering animations, new banners of advertising … Here again one of the models of its kind is Vista Print, with a chain of prospection and impressive loyalty with series of emails re-activation thematic, promotional, favorite…
8 – Communicate with your affiliate program:
most companies make the mistake of "hiding" this tool to prevent their customers from using it for their internal use … On the contrary, it must be put forward to encourage visitors to become your ambassadors and consume more! Similarly, it is important to make press releases, articles on your blog … about your affiliate program to gain visibility on the Internet.
9 – Some affiliates are more important than others:
the Pareto Law is also valid in the affiliation … or worse … Indeed 10% of affiliates generally makes up 90% of turnover. You must, therefore, offer them additional discounts by clearly indicating higher salary levels that will push them to put forward your program. Likewise schedule appointments and calls with your "Top 10" to establish a special contact and help them sell your products better (e.g. specific tools, help in optimizing their site …). For example in the field of X, some affiliaters do not hesitate to invite their best affiliates to Pink Paradise once a year, the loyalty effect guaranteed!
10 – Constantly optimize your affiliate program:
the internet is a world that moves, new advertising formats appear, competitors are launching in your sector … It is therefore essential to stay in touch with its affiliates, whether through surveys by email (polls …) or via an internet newsletter or a Private Blog accessible only to affiliates.
11 – Register your program in affiliate sites to recruit members
(for example www.rentabilisez.com), and do not hesitate to pay Google Adwords to recruit affiliates! Likewise, if you know of sites that have a non-competitive and complementary activity, offer them a cross-emailing on your bases to recruit value-added affiliates.
12 – Carefully monitor the forms sent by your affiliates if you pay the form:
it is very tempting for an affiliate to ask his readers to fill out a form to help him or to oversee a product … You must be able to do a tracking form by the affiliate to eliminate black sheep…
13 – Set a minimum payment threshold neither too low nor too high:
if you require a minimum turnover of 100 € before paying the commissions you will reject small affiliates, if you pay from 15 € you risk instead to pay very quickly many affiliates … The amount usually proposed is 50 €, knowing that very many affiliates never reach this amount. It is also necessary to propose several means of payment (PayPal, in kind, by transfer, by check with a deduction if necessary …), and delays of payments short (1 month).
14 – Avoid offering more than 2 affiliate platforms your program:
usually, affiliates are registered in the main affiliate sites … If you use the services of one of the major sites you are certain to cover 75% of affiliates who account … With two platforms you should reach 90%, so it is not worth paying more for 10% of affiliates who usually have little traffic …
15 – Be careful to be clear about the keywords that your affiliates can use in Adwords campaigns:
if you're not paying attention, you may end up competing with your affiliates about your brand and your strategic keywords (and most often he will be before you!).
16 – If your affiliation contract with an affiliate platform allows you,
deal directly with the 5% of affiliates who regularly generate 30% of sales … You can optimize your promotional actions! Similarly, once your business volume generated by affiliates is too important, use an affiliate program to manage your affiliates yourself (ex: Post Affiliate), knowing that it will take time for all that is administrative work.
17 – Always offer larger commissions than your competitors' affiliate programs.
If necessary, only offer larger commissions to Top Affiliates. However avoid pay on all purchases of customers without a time limit, propose a commission limit of 1 year (max 3 years).
18 – Offer affiliate sponsorship:
that is to say that you offer your affiliates to earn money on the sales made by the affiliates they have recruited.
The 19th and ultimate advice, Make several cost assumptions depending on the success of your affiliate program and be ready to "turn off the tap" if the machine is racing.
There are 2 risks:
In case of success, you may see very quickly the amount to pay affiliates to explode, if you have long payment periods suppliers, low margins … it can be very dangerous.
The other potential problem is the fraud: if you pay in proportion to the realized turnover, the risk is mainly at the level of the unpaid … but if it is a payment to the form and that you are not sure of generating turnover from "rotten" leads you must plan an immediate stop of the offer (or at least the stop of the validation of new members) to watch attentively what is the rate of transformation, the turnover generated, the returned products and especially margin!
Would love to read more about Affiliate Marketing…
How to Learn Affiliate Marketing Free
A Simple Way to Profit from Affiliate Marketing
10 Basic Tips for Success in Affiliate Marketing
Where to find the Best Affiliate Programs