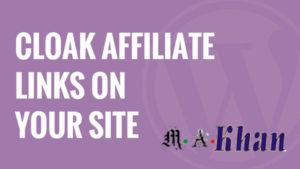 Today, I want to address a question I got from one of my Facebook group member Robert Apuuli Wood.
Robert is just about to start his first ad campaigns on Facebook and Bing etc and he asked me how he can get around using the raw affiliate link he was given by the company?
This is a great question and one I hear fairly often.
I think the first thing to remember is that Facebook and Google in particular do not like affiliate marketers in general, that is not necessarily true of all niche's but it is true when it comes to niche's like 'Make Money Online' 'Home Business'
This is generally down to the amount of hype out there and misleading income claims etc. So it is very important to remember that you should NEVER use your raw affiliate link in your adverts because this WILL result in your account being suspended, believe me I know!
If your Facebook account gets suspended it is extremely hard to get it reinstated and most of the time you will never get it back, so be warned!.
So that is the first reason that you should cloak your links!
The second reason is that a raw affiliate link looks ugly and it is fairly obvious to anyone that it is an affiliate link which is very off putting and will certainly put some people off clicking on your link.
And the third reason that you should use your own link is that it is a great opportunity to brand yourself in all of you adverts, because if your URL is your name people will notice it and they will start to see you as an authority and someone that knows what they are doing.
For example, all of the links in my adverts will look like this….
www.makhan.org/unique-word
Here is some FREE online Link Croaker. Try them Now!