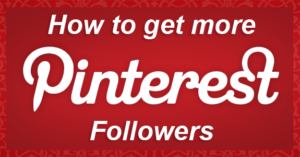 Hi Guys! Do you know that Pinterest is also a good source for getting real traffic on your blogs, YouTube Videos, and your affiliate Offers? Yes, it is.
Today I will reveal its secrete that how by using Pinterest You increase your traffic. To get the traffic you must have a large number of followers on Pinterest.
In this super short video I'm going to show you my dead simple Pinterest marketing strategy that allows me to quickly and easily build up huge Pinterest accounts for my sites to the point where they have thousands of niche related followers so that I can then use these accounts to drive traffic, backlinks and sales to my niche sites.
Pinterest is absolutely huge these days and it currently has over 70 million users and is one of the world's largest sources of completely free traffic and if you're not already using Pinterest for business marketing then… well you are completely missing out.
03 Important Steps For FREE Pinterest Traffic by Followers
In this video you will learn:
– How to get traffic from Pinterest.
– How to get more Pinterest followers than you know what do with.
– How to use Pinterest for SEO and backlinks.
– And basically… how to make money with Pinterest!
Watch Step By Step Video Tutorial How You Can Increase Your Followers: